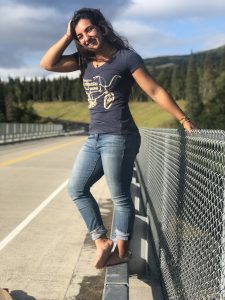 Hello fellow classmates! I am Aubrey Romo from Aleknagik Alaska. Aleknagik is located 20 miles of Dillingham in Bristol Bay.
I have lived in Alaska since 2002 and LOVE this state. When I was 17   I began working as a flyfishing guide in the Bristol Bay region, and have spent 4 seasons flying around for fishing adventures! It has been so fun to get a better understanding of the surrounding local area and I am hoping that in this class I will learn so much more about Alaska and it's geography.
I've attached a photo as I like to be able to put a face to a name. Best wishes for this semester!
-Aubrey Romo