After comparing from a variety of resources such as the Alaska National Weather Service, Alaska Volcano Observatory, Alaska Wildland Fire Information, as well as the Alaska Department of Natural Resources and documenting the natural disasters I think I have determined the most hazardous area in Alaska. It was hard to make the region smaller since there were so many events throughout history that could not be ignored. The area of Alaska which I think is the most hazardous is from just West of the Cook Inlet to Palmer, down the Kenai Peninsula.
Earthquakes: There have been a multitude of earthquakes within Alaska and even some larger magnitudes within the interior. However, the two I would consider hazardous that fell within this region are the 1964 and 2018 Anchorage earthquakes which at magnitudes of 9.2 and 7.0 respectively. These earthquakes caused severe damage to businesses, roadways, and homes.
Below are two topical geographical maps of earthquakes within Alaska:
https://www.nps.gov/articles/aps-18-1-11.htm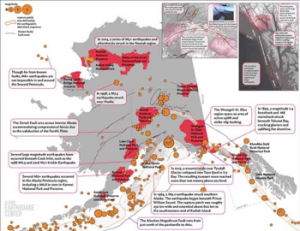 https://earthquakestoday.info/alaska_earthquake.html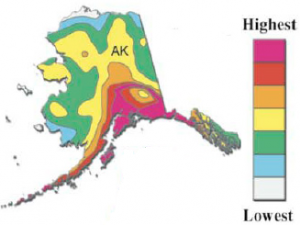 Tsunamis: According to History.com, the 1964 Alaska earthquake also triggered a tsunami in Kodiak, Whitter, and Seward. Since this region is coastal, tsunamis could potentially become a disaster depending on earthquake or landslide activity. Even though the largest tsunami happened in Lituya Bay, others occurred within the Kenai Peninsula region.
Volcanoes: Based on the tectonic plates and the type of plate boundary, there are many volcanoes along the southern coast of Alaska and Aleutian Islands. Several of these volcanoes have erupted within the last hundred years and many are still active. Mt. Redoubt erupted in five times since being recorded in 1778 (geology.com). The explosive eruptions damaged homes from the volcanic ash. Other volcanoes within the area include: Augstine, Spurr, and Iliamna.
https://geology.com/volcanoes/redoubt/
Floods: Some of the volcanic eruptions caused glacial flooding within the region and other floods were caused by glacier dams. Both the Knik and Kenai rivers had floods which caused damages to the area. In 1995 the Kenai river flooded again and caused an estimated 10 million dollars in damages to the Seward and surrounding areas. (https://www.weather.gov/safety/flood-states-ak)
Fires: Although most of the major fires of Alaska occur within the interior, there are fires that take place within the Kenai Peninsula. Just last year there was a fire caused by lightning near Soldotna at Swan Lake. According to Alaska Wildland Fire Information, the fire was over 167,000 aches.
9/25/19 – 10:00 AM – Swan Lake Fire Fact Sheet and Public Information Map
Avalanches: To find a clear topical map of Alaska's avalanches was a little more difficult to find. I based my information on recorded avalanche deaths from: Avalanche Accidents/ Incidents. Many deaths happened in various places of the state, however there were deaths within this region. There were high deaths in avalanches near Turnagain Pass, Kenai Mountains, and Crescent Lake.